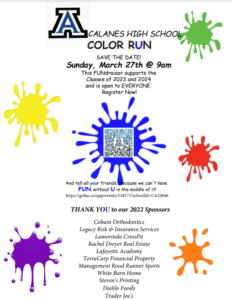 Sunday, Mar 27 at 9am is the 3rd annual Color Run Fundraiser to support 2023 and 2024 classes. Run 1.5 miles through the Acalanes campus with white t-shirts to wear through five color stations where participants will emerge in a rainbow of colors by the end of the run. Open to ALL students in the community. Click here for tickets. Register todayas there are limited spots available! 

Tree Planting Event
Next month, Acalanes will be hosting a sapling planting event as part of Earth Week. We are working with Tree-Plenish, which is a non-profit organization that works with high schools to help offset the amount of paper used during the school year by planting saplings. Buy your own sapling here for the low price of $10 before Wednesday, March 23. There are a variety of trees to choose from and contributions go towards helping plant more trees to make communities greener.
 
Acalanes Spiritwear
Looking for Acalanes gear or a welcome gift for the Class of 2026? Two options:
We have created a spirit pack geared for the Class of 2026. which includes a hooded black sweatshirt, car magnet, cinch pack and flag to fly at your house for $68.00. Proceeds generated from the spirit packs will benefit the Class of 2026. Last  day to order is Monday, Apr 11 and pick-up will be Wednesday, May 4.
Spiritwear is available for purchase on the Acalanes webstore. You can purchase here and once purchased, you will receive an email with directions for pick-up.
Saturday, Apr 30 Junior & Senior Prom at Lake Chalet in Oakland
Tickets are live on the webstore
Wednesday, Mar 30 at lunch Bus Assignments begin. In order to get a bus assignment, students need to show their webstore receipt & permission form. Permission forms can be found on the webstore and on the door of room 314.
Tickets are $85 for current 11th and 12th graders; $125 for outside guests and current 9th/10th.
Ticket price includes transportation to/from the event, buffet dinner, dancing, karaoke, silent disco, games & photo booth.
As we end the 3rd Quarter, we want to say thank you for your enthusiasm & support for student activities. Katherine Walton, the Student Activities Director, is headed out on maternity leave. For any student activity questions, please contact Kat Bautista.