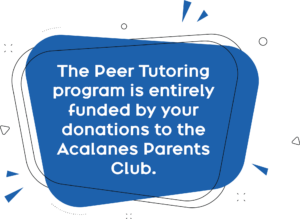 Peer Tutoring is Open for Business!
Peer tutoring aims to better the educational, social and emotional well-being of all Acalanes High School students. We work with students to help them develop the skills necessary to succeed in academics and life post high school. 
The program is located in Room 107, a new, welcoming space where our tutors offer the highest quality academic help. Carefully selected junior and senior tutors help students with English, math, social studies, science, and world languages. Students may drop in and stay for as long as necessary. No appointment is required. 
Peer Tutoring also works closely with our staff and teachers to assist students with specific assignments or challenging subject matter.
Please email with any questions, and encourage your student to drop by and say hi!
Hours
7th Period
Academy
Lunch
Every day 1 hour after the final school bell.
Co-Directors
Kristen Labrosse klabrosse@auhsdschools.org
Angela Ketcham aketcham@auhsdschools.org