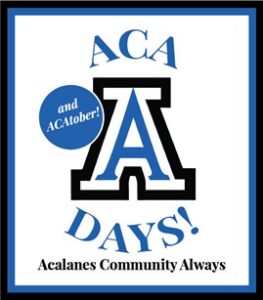 Wednesday, Oct 28 at 7pm - ACA Night at the Drive-In Movies, Solano Drive In
Mark your calendars for the final celebration of ACAtober! Join your friends & family (socially distanced) for a fun movie night under the stars! The theater will announce which movie will be played on Wednesday, October 21. Stay tuned for more details!
ACA E-Thanks to Acalanes Teachers & Staff
The first quarter is over and November will focus on gratitude and giving back. Let's let our awesome teachers and staff know NOW how much we all appreciate what they do for our students. This week, please email at least one - if not all! - of your student's teachers with a brief note of thanks. Not sure what to write? It can be as simple as: "Thank you for all you're doing to help support my student during Distance Learning. Your efforts are thoroughly appreciated." Emails to Acalanes administrators and staff are encouraged too!
Did you know the ASB Spirit Card Just Got Even Better?
Four more local businesses have joined the program! ASB Spirit Card Holders can receive a special discount at 360 Burrito, Pancoast Pizza, R&R Barber Salon and Zoonies. Here's the link to participating businesses.
Questions, comments or feedback, email aca@acalanesparentsclub.com.
Read more

The AHS Community Can't Be Canceled campaign, initially created last spring by Acalanes Leadership, was a successful effort to generate spirit and a great sense of belonging between Acalanes and the greater Lafayette community during Shelter in Place and beyond.
From "Let's Paint This Town Blue" to the Senior Car Rally and all the individual class spirit efforts in between, it helped to pull us together. Going forward, ACA • Acalanes Community Always will replace this effort and we hope you'll join this Acalanes Parents Club effort and get involved!
You can show your Dons pride by flying a new AHS flag to welcome in the new 2020-21 school year. Click here to buy one and pick up at Dons Days. 
Other ACA initiatives in the works:
ACA Days

 – On-campus Lafayette community fair to look forward to when campus is open to all

Dons Spirit Team

 – Be part of an effort focused on increasing our Dons Spirit 

DonsAlums

 – Facebook network for Dons Alumni to connect with each other and get more involved at Acalanes

Jobs4Dons

 – Job network focused on networking, interviewing, resume writing & job opportunities for current and recent Dons 
While parents won't have the traditional ways to get involved on campus this Fall, YOU CAN STILL GET INVOLVED with ACA!! 
Email aca@acalanesparentsclub.com to join the fun.