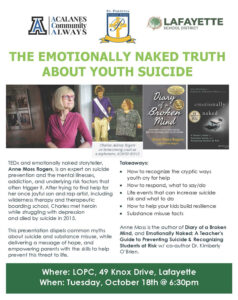 The Emotionally Naked Truth About Youth Suicide
Tuesday, Oct 18, 2022
6:30-8:30pm
Register Here

Acalanes High School with the Lafayette School District, and St. Perpetua School, in partnership with Acalanes Parents Club (APC) and Lafayette School District Parent Education Committee (DEPC) is bringing this important learning opportunity to our community.  This is a challenging and important topic, and we are confident that speaker Anne Moss Rogers will help our adult community better understand this complex issue so that we can support our students. 
 
This adult-only event is free of charge. Registration is required. The event will be held on Tuesday, Oct 18, from 6:30-8:30pm, at the Lafayette Orinda Presbyterian Church, 49 Knox Drive, Lafayette. Click on the link here for more information and to register for this important event.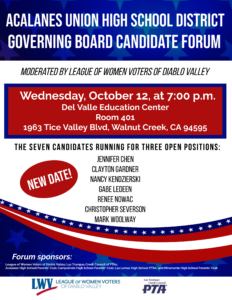 Acalanes Union High School District (AUHSD) Governing Board Candidate Forum

Wednesday, Oct 12 at 7pm
Del Valle Education Center, Rm 401

Moderated by the League of Women Voters of Diablo Valley
Click here for full flyer
Read more