Thank you to our local businesses for investing in LPIE's mission to support and enrich the education of every child in the Lafayette public schools!
Their commitment to our students and community is extraordinary.  Please be sure to say "thank you" when you see any of these business owners!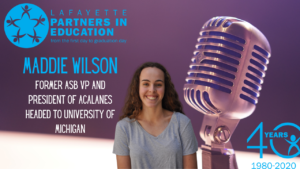 Step inside the halls of Acalanes High School during Adam's conversation with 2020 AHS graduate Maddie Wilson.
Learn how Acalanes has helped Maddie become a confident woman who is striving towards her full potential, and also who recognizes and appreciates the value of individuals from all walks of life. LPIE's commitment to Acalanes ensures programs, electives and support is funded and available to every student, which is why it remains an incredible institution and truly a place for everyone! Click here to listen and learn more.

Laura-Kate Rurka & Jennifer Palmer
Acalanes LPIE School Chairs