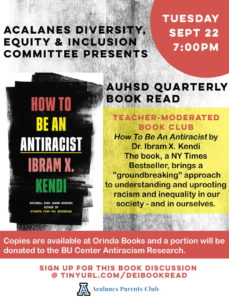 Tuesday, Sept 22 from 7-8:30pm – Register to Attend Book Club!
Join us online for a teacher-moderated discussion about the book How to Be An Antiracist by Dr. Ibram X. Kendi. Register for the event here. Don't miss this important discussion, even if you haven't had a chance to finish the book! Click here for the 'Shortform' book summary. Let's meet online on Tuesday!
And for extra credit prior to book club, listen to Brene Brown talking with author Dr. Ibram X. Kendi about his book.