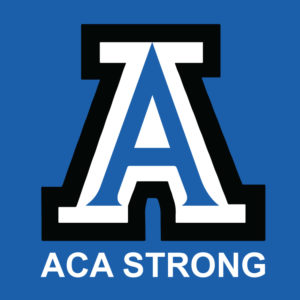 ACA "March Madness"
It's almost time to welcome hybrid students back on campus!! With a return to Hybrid date of March 16, it's time to pump up the ACA spirit to new levels! Here are some ways to do so:
Fly your ACA flag!!

Don't have one? Buy one on the

webstore! (See Fundraising section for details.)
Decorate your student's mailbox

for the first day of Hybrid (decoration kits will be available during "Back to School" hybrid orientation)

Get your students ready to

wear ACA STRONG shirts

on Hybrid Day 1, March 16. Students who didn't pick up an ACA Strong shirt at the last ACA Day can pick one up at Back to School Hybrid Orientation.

Be on the look-out for more info for a

Senior Car Painting

effort

Join the fun & buy an

ACA Parent/Sibling Strong Shirt.

This is a grey version of the student/staff ACA Strong shirt.  You can purchase now via the

Acalanes webstore

for $10 and pick up from Acalanes after you receive your confirmation email. 
Buy and Eat Local: Support Lafayette Businesses & Restaurants!
Local businesses and restaurants need our support more than ever! Restaurants are welcoming outside dining again and would appreciate patronage by Acalanes families in their outdoor seating areas or via take-out. As always, local businesses continue to help our classes with dine out fundraising. Mark your calendar to support these businesses AND our Dons!
Class of 2024:

Tuesday, March 3

from 10a to 7p at Sideboard 
Questions, comments, or feedback, email aca@acalanesparentsclub.com.