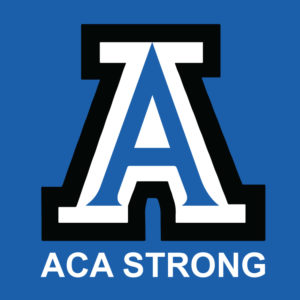 ACA Strong Shirts
Missed buying a grey ACA Strong shirt at our drive through? You can purchase now via the Acalanes webstore for $10 and pick up from Acalanes after you receive your confirmation email. 
ACA STRONG Blue Heart Displays of Spirit
Show your ACA Spirit by showing how much "heart" you have for Acalanes and our Lafayette community. Chalk your driveway with a BIG BLUE heart, hang blue hearts in your windows & look out for ACA STRONG posters throughout Lafayette. Check out @ahs_dons on instagram to see pictures & to submit yours! 
Buy and Eat Local: Support Lafayette Businesses & Restaurants!
Local businesses and restaurants need our support more than ever! Restaurants are welcoming outside dining again and would appreciate patronage by Acalanes families in their outdoor seating areas or via take-out. Two local businesses have agreed to help our classes with dine out fundraising. Mark your calendar to support these businesses AND our Dons!
Class of 2023:

Wednesday, Feb 24

for lunch and dinner at Pan Coast Pizza

Class of 2024:

Tuesday, March 3

from 10a to 7p at Sideboard 
Questions, comments, or feedback, email aca@acalanesparentsclub.com.