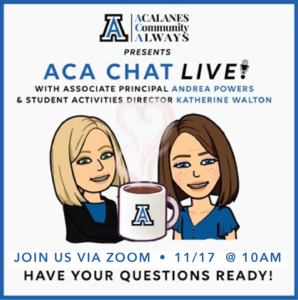 Tuesday, Nov 17 at 10am ACA Chat Live with Andrea Powers & Katherine Walton (& Coffee Social @ Sideboard)
The first interactive chat was a hit! Parents won't want to miss the next one. There will be a socially distanced "coffee social" at Sideboard at 9am for any parents who would like to join prior to ACA Chat Live. More details to come.
ACA E-Thanks to Acalanes Teachers, Admin & Staff
There continues to be  heart-warming positive feedback from the emails and thank you notes sent already. The goal is for each AHS staff member to receive an email of thanks. It's not too late to sign up here to express gratitude. These emails make a difference!
2nd Annual ACA Day has been postponed from November to December
The previously scheduled ACA Days (Nov 16-18) will now be held in December. 
AHS + Lafayette: Better Together
Check out the signs in the city marquees in front of Safeway and Lafayette Park Hotel. It's a great reminder of the growing partnership between our Dons community, the City of Lafayette and the Lafayette Chamber of Commerce. 
Questions, comments or feedback, email aca@acalanesparentsclub.com.