We Need Your Participation!
Just 50% of the parent community has supported our students with a donation to LPIE this year. Participation is key to fund school-based mental health which is essential to educate and help the whole child. This year, Lafayette schools have pivoted to ensure access to students and parents so they have a place to turn to for support. Your LPIE donation will fund the Wellness Center at Acalanes, a vital student service on our campus. Will you take 60 seconds to hear why Lulu and Scott Braunstein value wellness in our schools?  It's up to all of us to give students a soft place to land when things get difficult. Participate and make 2x the impact with a matched donation today!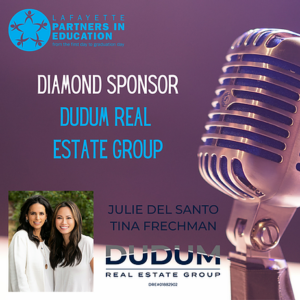 Treat yourself to a wonderful podcast with LPIE Diamond Business Partners and frequent school volunteers, Julie Del Santo and Tina Frechman of Dudum Real Estate Group. 
Julie and Tina give the listeners insight into what makes this community so attractive to families, and why kids who grew up in Lafayette keep coming back to raise their own families here. Julie and Tina also discuss with Adam why it's so important to donate to LPIE, and the variety of ways to support LPIE as a business, parent and/or community member. If you are looking for some affirmation why you made the right choice to live in Lafayette, this is the podcast to check out! Click here to listen.
Laura-Kate Rurka & Jennifer Palmer
Acalanes LPIE School Chairs
Follow us on Instagram