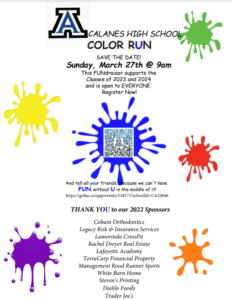 Sunday, Mar 27 at 9am is the 3rd annual Color Run Fundraiser to support 2023 and 2024 classes. 1.5 mile run through the Acalanes campus with white t-shirts to wear through five color stations where participants will emerge in a rainbow of colors by the end of the run. Open to ALL students in the community. Click here for tickets.Register today as there are limited spots available!
 
Spirit Week – THIS WEEK! We are so excited about the week ahead complete with dress-up days & lunchtime programming.
Monday

Dress-up Rainbow Day, Environmental Kahoot in room 314 at Lunch

Tuesday

Dress-up with Flower Power (70's wear), flowers for sale in the front quad at Lunch

Wednesday

Dress-up in Class Colors (Seniors wear black, Juniors wear gray, Sophomores wear blue and Freshmen wear white), Mock Rock (class lip sync battle), food & music on the field at Lunch

Thursday

Dress-up with Crazy Sunglasses, Otter pops in the back quad at Lunch

Friday

Dress-up in Jerseys and Acalanes Unified Basketball in the big gym at Lunch
2021-2022 Clubs Anyone can still join a club and now is the perfect time to do so! Check out our 2021-2022 Clubs (clubs highlighted in green are new as of this semester).
 
Acalanes Spiritwear Looking for Acalanes gear or a welcome gift for the Class of 2026? Two options:
We have created a spirit pack geared for the Class of 2026. which includes a hooded black sweatshirt, car magnet, cinch pack and flag to fly at your house for $68.00. Proceeds generated from the spirit packs will benefit the Class of 2026.
Spiritwear is available for purchase on the Acalanes webstore. You can purchase here and once purchased, you will receive an email with directions for pick-up.
Saturday, Apr 30 Junior & Senior Prom at Lake Chalet in Oakland
Tuesday, Mar 1 Tickets are live on the webstore
Tuesday, Mar 15 and Wednesday, Mar 16 Juniors & Seniors receive invitations in English classes
Wednesday, Mar 30 at lunch Bus Assignments begin
As we end the 3rd Quarter, we want to say thank you for your enthusiasm & support for student activities. Katherine Walton, the Student Activities Director, is headed out on maternity leave. For any student activity questions, please contact Kat Bautista.