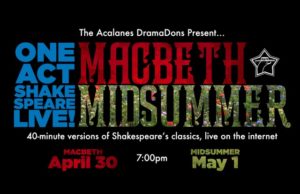 April 30 and May 1 at 7pm – One Act Shakespeare Live: Macbeth & Midsummer The Acalanes DramaDons are proud to present "One Act Shakespeare Live: Macbeth & Midsummer." These exciting 40-minute versions of William Shakespeare's Macbeth and A Midsummer Night's Dream will stream live on the DramaDons' YouTube channel. Each play is presented for one night only, so log on to see Macbeth on April 30 and Midsummer on May 1 at 7pm PST.
This is not just your average "Zoom play." All actors will perform from individual remote studios set up in classrooms on the Acalanes campus. Then, using the magic of technology, actors' images will be composited into a single frame, giving the illusion of working together, and all of it will happen live, in real time!
If you'd like to learn more, check out the article about our production on page 33 of the latest issue of the Acalanes Blueprint.
May 1 Deadline – Acalanes Performing Arts Booster Scholarship
APAB will award one $1,000 scholarship to a Senior in the Acalanes Class of 2021 who participates in either Choral Music, Drama or Instrumental Music with an intent to major or minor in a performing art at a two or four-year college, university, or performing arts school. Applications are available now and must be submitted by May 1. Click here for the application.