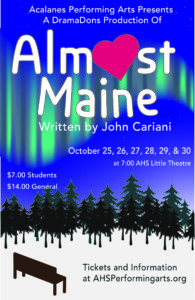 ALMOST MAINE

Welcome to Almost, Maine, a place that's so far north, it's almost not in the United States. It's almost in Canada. And it's not quite a town, because its residents never got around to getting organized. So it almost doesn't exist. One cold, clear, winter night, as the northern lights hover in the star-filled sky above, the residents of Almost, Maine, find themselves falling in and out of love in unexpected and hilarious ways. Knees are bruised. Hearts are broken. But the bruises heal, and the hearts mend—almost—in this delightful midwinter night's dream.
DATES:  Oct 25-30, 2021
TIME:  7pm 
LOCATION:  AHS Little Theater 
The DramaDons are back for the first time in 2 years and we couldn't be more excited!  
In response to COVID 19, tickets sales are limited to 100 seats per night. Distancing is encouraged and masks are required.  
Tickets are available exclusively at:
https://www.showtix4u.com/event-details/57303
Sales begin Saturday, October 16. Tickets will not be available at the door.