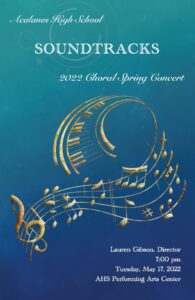 Tuesday, May 17 at 7pm in PAC Acalanes Choral Concert 2022
Enjoy a night of beautiful music by various Acalanes Choral groups as they perform favorite songs from movie soundtracks. Led by Director Lauren Gibson. Free admission.
 



Friday, May 20 from 5:30 to 9:30pm Jazz Cafe 2022 in Stanley Middle School's Multi-Use Room.
Always a popular community event, this year's Jazz Cafe will feature talented Jazz Bands from Acalanes, Stanley Middle School, Campolindo and more. All will be coming together for an evening of music and to honor Mr. Bob Athayde after 35 years of inspirational service to the Lamorinda Community. Free admission. Additional information here.