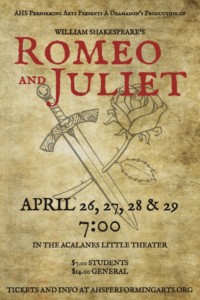 The Acalanes Drama Dons are proud to present Romeo and Juliet, by William Shakespeare nightly from Tuesday, April 26 through Friday, April 29 in the Acalanes Little Theater. All shows start at 7pm and doors open at 6:30pm. Purchase tickets here.
 
The APAB Board is seeking New Board Members. Are you interested in volunteering for a role that can make a difference in Acalanes' performing arts? Acalanes Performing ArtsBoosters (APAB) is looking to fill open roles for next year. This is a great opportunity to get involved and connected to our performing arts community!
Open 2022-23 APAB roles:
President
Secretary
Treasurer
Publicity & Communications   
In addition, Instrumental Music has the following board openings for the coming year (must have a student enrolled in Instrumental Music):
Secretary
Treasurer
Reception Committee
Please contact Paulie Proffett or Mary Beth Towery for more information.

Acalanes Performing Arts Booster Scholarship
APAB will award one $1,000 scholarship to a Senior in the Acalanes Class of 2022 who participates in either Choral Music, Drama or Instrumental Music with an intent to major or minor in a performing arts at a two or four-year college, university, or performing arts school. Applications are available now and must be submitted by May 1. Click here for the scholarship instructions and application.