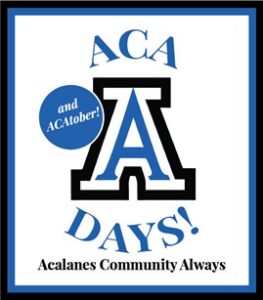 It's an exciting month ahead for all things ACA. Check our ACAtober details below:
Thursday, Oct 8 ACA Day  
It's ACAtober and the first ACA Day is a "not to be missed" drive-by event on campus. Check out the class sections for more info. In addition to some old-fashioned Acalanes spirit, the first 50 students from each class will receive a cool gift of ACA SWAG!! Students will also have a chance to write/drop off thank you notes for Lafayette firefighters & police officers, health care workers and/or our awesome AHS teachers & staff. Acalanes families can help with the ongoing fire devastation by donating to the Acalanes Community Always Fire Relief Fund.
Tuesday, Oct 6 at 10am ACA Chat Live!
This event, hosted by co-Associate Principal Andrea Powers & Student Activities Director Katherine Walton, is a "not to be missed" informal, engaging and interactive parent forum. Pandemic exhaustion tips for students will be highlighted along with ways parents can help students stay engaged. Expect a light-hearted but highly informative hour. Watch your email box tomorrow for details on how to participate. 
Campus Clean Up
WOW!! Students (and parents) turned out BIG for the effort to spruce up the campus on Saturday.  It was the largest student turn-out ever and it was great to see Acalanes students so motivated to connect and give back. 

Questions, comments or feedback, email aca@acalanesparentsclub.com.