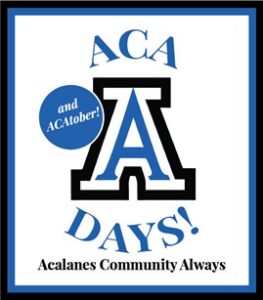 Join the fun and get in the ACA Fall spirit by participating in these events:
Saturday, October 3rd – ACA Campus Clean-Up
Kick off the month of October by helping us spruce up our campus so it looks great when students return. All are welcome – students, parents, and community members. Grab a few friends or pull your club or team to work together in socially-distanced zones. Sign up here!

WELCOME TO OUR FIRST ACA DAYS! And ACAtober! Thursday, October 8 Campus Drive-By (See class drive-by schedule below)
•    WAVE & Say hello to AWESOME Acalanes Teachers & Staff
•    CELEBRATE 1st Quarter End with "APC Finals Fuel" gift
•    GIVE BACK Pick up thank you cards for those you appreciate
•    RECEIVE Spirit sticker from your Class Officers & Liaisons
•    DONATE Acalanes Community Always – Fire Relief Fund
•    HELP YOURSELF Learn more about AHS Peer Tutoring
•    PICK UP Yearbooks, Class T-shirts & AHS Flags
•    SMILE You're part of an amazing DONS School Community
First 50 students per grade get a SURPRISE piece of ACA Swag!  
3:00 – 3:30pm    SENIORS!!!!
3:30 – 4:00pm    JUNIORS!!!
4:00 – 4:30pm    SOPHOMORES!!
4:30 – 5:00pm    FROSH!
Acalanes Alumni Network
Team ACA is looking for local Acalanes Alums (you may have just graduated or be a "vintage" Alum) to help with some exciting projects. Email Dawn Brightbill and Sarah Cusumano to join the effort at aca@acalanesparentsclub.com. 
Lafayette Res Run
Creativity at the Lafayette Chamber is in high gear. Visit the Fundraising section to learn more about this fantastic community event and register to join the fun.