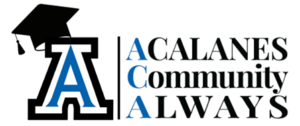 A BIG ACA THANK YOU!!
Acalanes Community Always is a partnership between all facets of Acalanes and the greater Lafayette community. ACA's success is dependent on a wide array of AHS students, teachers and admin, class liaisons, and parent volunteers. From Acalanes Leadership students to ACA Support Partners (APC, APAB, Acalanes Boosters, and LPIE), the Lafayette Chamber of Commerce, the City of Lafayette, and our wonderful restaurants and businesses, thanks to all of YOU for embracing ACA!!! Can't wait for what comes out of this partnership in the next school year. !
ACA Celebrates the Last 25 Days of the 2020-21 School Year
Encourage your students to check out all the ways they can connect each day before the school year comes to a close. Here's the link to the 25 Days of ACA. Let's finish the year ACA Strong! 
Tuesday, June 22 from 5-8pm – Taste of Lafayette
It's time to reconnect at Lafayette's favorite dinner party, "Taste of Lafayette." Enjoy food and drink from Acalanes favorites like Batch & Brine, Papillon, Sideboard, Tutu's Food & Drink, Vitality Bowls, Zoonies, and many, many more. This is a not-to-miss event!! More details and the link to purchase tickets can be found here. 
Questions, comments, or feedback, email aca@acalanesparentsclub.com.