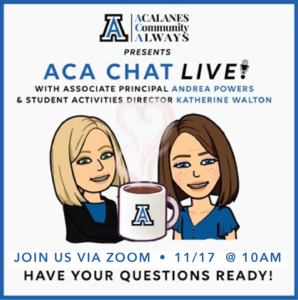 Tuesday, Nov 17 at 10am ACA Chat Live with Andrea Powers & Katherine Walton (& Coffee Social @ Sideboard)
The first interactive chat was a hit! Join the next one by registering here. There will be a socially-distanced coffee at Sideboard at 8:30am (note earlier time!) for any parents who would like to join prior to ACA Chat Live. Dress warmly. Coffee will end in time to get home for ACA Chat Live. Please email to RSVP for coffee to help with a headcount. 
AHS + Lafayette: Better Together
Check out the signs in the city marquees in front of Safeway and Lafayette Park Hotel. It's a great reminder of the growing partnership between our Dons community, the City of Lafayette and the Lafayette Chamber of Commerce. 
Questions, comments or feedback, email aca@acalanesparentsclub.com.