Pre-Finals Week 
FROSH ONLY: Finals informational meeting
Tuesday, December 6 during lunch in the library
Come hear from teachers in English, Math, World History, Living Earth & World Language about best practices to prep for finals. They will not only share information on finals but best ways to study as well. Finals goodie bags will be handed out to the first 150 Frosh thanks to APC. 
EXAM JAM
Wednesday, December 7 from 3-5 PM in the library
Kick start your finals studying and preparation during exam jam. We will have teachers from each department along with peer tutors on hand to support and answer questions. It is a great opportunity to finish up study guides, begin to study while enjoying delicious snacks & a quiet environment. See you there!
Finals Week – December 12-16
CANINE STRESS BUSTERS
Monday, Dec 12 at lunch in the front quad
Come hug it out with your favorite four-legged friends. Therapy dogs will be on campus to provide smiles and tail wags to help reduce stress and provide a general sense of connection to our students. In addition, there will be tables with various stress free activities!
TEACHER OFFICE HOURS
Tuesday, Dec 13 from 8:30-10:30am  during 0 period
Have some last minute questions? Students can coordinate a time to meet with their teacher during office hours.
PEER TUTORING
All students can take advantage of this invaluable program, entirely funded by your APC donations. Tutors are prepared to provide support for almost all AHS classes and can provide knowledge of both subject and teacher.
Student tutors, as well as Coordinators, Kristen Labrosse and Angela Ketcham , are fantastic resources for students who need a little help getting organized or knowing how to prepare and study for a test or final exam.
Peer Tutoring is a casual academic setting.  Students are welcome to eat in the classroom.
Regular Hours: Every Academy, Lunch, 7th Period, and every day 1 hour after the final school bell.
Finals Week Hours: Monday, Dec 12, regular hours. Tuesday, Wednesday and Thursday (Dec 13-15) from 12:50-3pm.

ACADEMY
There are 4 more Academy periods before the end of the semester (Nov. 30, Dec. 2, Dec. 7, Dec. 9). This is the perfect opportunity for students to take advantage of the support teachers are providing in order to do well at the end of the semester and on finals. Teachers offer a variety of tutoring support, test corrections, retakes, and redos during academy. Students who use their Academy time wisely can greatly improve their knowledge and reduce stress.

WELLNESS & STRESS RELIEF
The Wellness Center works in collaboration with the Counseling Department to provide support services for all students thanks to funding from LPIE. They promote student well-being and academic success by providing stress-relief, mindfulness and meditation practices, self care tools, and mental health counseling. Prior to finals, their emphasis will be on helping students head into finals rested, centered, and calm.
Wellness Center Hours:

Open for students to drop in every school day 8am to 4pm (with teacher approval during class hours).

Finals Week Hours: 

Monday, Dec 12, regular hours. 

Tuesday, Wednesday,Thursday, Friday (Dec 13-16) from 8am to 1pm.

WELLNESS WINTER WORKSHOPS 
Wednesday, Dec 7 during Academy, The Wellness Center will host a 'Wellness in the Winter' session. This Academy session is a space to gather together and practice coping skills to thrive during finals and a long break with family.
ACALANES LIBRARY
Is your student looking for a quiet place to study? Our library is the perfect place!
Finals Week Hours: 

Monday, Wednesday, Thursday (Dec 12, 14, 15) from 7:30am to 3:00pm.

Tuesday and Friday (Dec 13, 16) from 7:30am to 1:30pm.

Note that on Wednesday, December 7 the library will be hosting the ExamJam from 3 to 5pm.

Finals Schedule
Click on the schedule below for a printable version.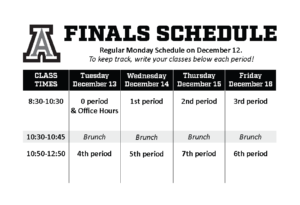 Finals Fuel
During finals week, APC provides snacks for the students during the brunch period between exams on Wednesday, Thursday and Friday.
Want to help with healthy snacks for Finals Fuel? Check out the Acalanes Finals Fuel link. It's a simple and an important way to support our students during Finals Week!