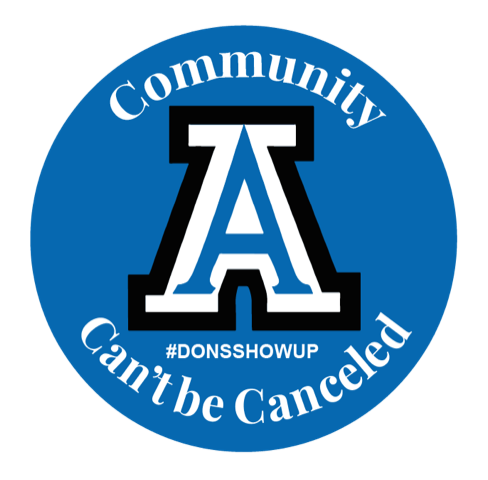 Join Acalanes and the greater Lafayette community in showing that we are still united! Here are some ways we can show our Dons' spirit and love of Lafayette while maintaining the county's Shelter in Place guidelines. #DonsShowUp
Additional community activities will roll out each week. Be on the look-out for additional information on the following sites:
Follow

@ahs_dons

on Instagram

Visit the Lafayette Chamber of Commerce

website

Keep checking back here

 

for additional updates
Email us if you have other great ideas to share!
AHS Alumna Hannah Kresnak and her friends at the University of Michigan celebrating her college graduation. Read the article for a shout out of our Acalanes Community Can't Be Canceled campaign! Hannah's younger brother Nick is a current AHS Senior.
2020 Dons, Forever Strong!
May 29, 6pm
Let's celebrate the Class of 2020 with ringing of the bells! On Friday, May 29 at 6pm (their originally scheduled graduation date and time), honk your horns, clang your pots and pans, and blow your whistles to let the Class of 2020 know they are loved and celebrated!
These efforts should be executed while making certain to adhere to Shelter in Place guidelines.
Gowns For Good
Many medical facilities continue to lack personal protective equipment (PPE) and health care workers are using anything they can for protection. The Gowns for Good movement is asking for graduation gowns as a substitute for surgical gowns. Contra Costa's greatest need is in Pittsburgh. If your student is interested in participating, find out more here.
Meals & Gifts for Grads!
Graduation is Thursday, June 4th, and Lafayette retailers have put together some great gift ideas to congratulate our AHS graduates. You'll even find some great ideas for Dads too (Father's Day is June 21). Additionally, local restaurants have created special family meals to celebrate. You can find more info on the Lafayette Chamber's website. Buying local helps our Lafayette businesses survive and provides sales tax dollars to the City of Lafayette.
Volunteer! Ongoing Opportunities for Dons to Show Up

How to Give Back During Shelter in Place
Shelter in Place doesn't have to be isolating. Students can use this time to look for ways to connect and give back to their community — with many options right in your home. Be sure to observe the county's most recent Shelter in Place guidelines as you volunteer. Ideas include:
Dons Give Back to AHS Teachers & Staff

Dons Give Back to Teachers: Video Library for their Children Create a video up to 60 minutes to help entertain children of AHS teachers & staff. Ideas include: read a children's book, play an instrument, show how-to-draw a character or animal, teach a cheer, create a work-out routine or any other idea you have in mind. Upload your video to your Google Drive and then share it with us at video@acalanesparentsclub.com Videos will be hosted on the Dons Give Back YouTube page.
Zoom Babysitting Students can babysit teachers' children in one hour increments on pre-assigned days via Zoom. Details regarding how to sign up with come via a School Loop email from Mrs. Walton.

Create Face Masks for your Family, Neighbors & Others in Need Options can be found here.
Make No Sew Fleece Blankets for Foster Youth Find drop off information here.
Volunteer/Donate at Food Bank of Contra Costa County The food bank is in need of food donations and volunteers at this time.
Donate Blood There is a severe blood donation shortage across the country. Parents and students over 16 (with parental consent) are eligible. Get more info at the American Red Cross website.
California Volunteers Check out this state-wide organization for more ideas.
Get Creative! Find other ways to give back from home – share them with us via president@acalanesparentsclub.com.